The bed frame which incorporates materials such as velvet, faux leather or suede or other materials other than wood is recognized as an Upholstered bed. The upholstery is often designed with additional padding which increases the comfort level while sitting or lying down.
Upholstered beds lit the market in no time due to several factors one of them is its designing. These beds are often designed by decorative flourished such as studding or embroidery which give them a sophisticated look and also luxurious feel.
A wide range of interior designs are available in such beds you can either go for a contemporary look to give your decor a 'wow factor' or you can go for a traditionally designed bed for an older house. Upholstered beds include extra padding on the frame especially if you end up liking ottoman or divan style bed.
The sides are upholstered to provide the frame in such beds which gives them a nice look often attract the buyers. There is a number of styles and different designs available in upholstered beds which can be confusing at the time to choose the one that really suits your imagination and what exactly you want.
Different Upholstered Bed Styles
Here are some most popular upholstered bed styles that you should know about. This article can help you choose the right one for yourself but wait before knowing about different bed styles make your head clear about your theme do you want to get a contemporary look to your bedroom or you prefer lying on a traditional-looking piece of nice non-wooden bed.
You should also keep the combination in mind, I mean you just can't go for a red velvet buttoned headboard with a contemporary bed frame. Designs of the bed frame and the headboard should complement each other so keep that in mind. If you are shifting to a new room then you might just go for a modern bed frame or maybe a neutral style can be a good option too.
Snuggly Scandi
This bed style comprises soft lighting, beautifully upholstered body with the curved top-and-tails which make it one of the most popular styled upholstered beds available in the market.
Ottoman And Divans
If you do not want to compromise on looks with the intention of having more storage space then you can surely go for this style of bed. Divans have the extra drawers underneath the mattress while Ottomans give it a well-designed overall body. The only non-pleasing thing about such beds is softened rigid lines due to upholstered footboards or headboard given for a more sophisticated look.
Panelled
These beds are made by using stitching and buttons which give them a panelled look on the headboard or sides. Panelled style beds can be labelled as ultra-modern styles. Pick a neutral colour to give a balanced look to your bedroom you should go for a slate grey or powder blue.
Faux Leather
Real leather brings both luxury feel and expensive price tag. The good part is you can still get a sophisticated look in faux leather or suede. These beds are very easy to clean for faux leather you just need to wipe over occasionally with a damp cloth and suede can be fine with a light brushing to bring the shine back. Despite possessing these good features Faux leather beds are pretty much back in fashion so if you can avoid the trendy part of the story you might want to grab an Upholstered bed in Faux Leather.
Now we have known the different styles in upholstered beds the big question arises what are the sizes of such beds available in the market?
Sizes Available of Upholstered Bed in the Market
There are mainly five different sizes of upholstered beds available in the market.
Queen size
Twin size
Twin XL
Full size
King size
Queen size: These beds come in standard sizes where two adults can coexist and get good sleep without really stepping onto each other's faces. Queen size has drawers and shelves with the standard dimension of 34 H * 65 W * 80 D.
Twin size: Twin size upholstered beds are the perfect matchmaking of children with the sophistication of upholstered head and footboard these beds instantly catch eyes. Storage space is quite handy while the interior and décor remain the best part of such beds. The standard size of twin beds falls into the dimension of 30 H*50 W* 65 D.
Twin XL: Design and décor remain identical to the twin size bed while extra padding and extended width maintain the difference between twin size and twin XL. If you do not want two separate beds for your kids then you got to go for the twin XL any day. The standard size of twin XL beds is 30 H * 65 W * 70 D.
Full size: These upholstered beds are larger in size than the earlier beds we saw on the list. There is also enough storage space for your belongings and with more padding, full size offers great deals for those who look for more space in their sleep kingdom. The standard dimension of full size upholstered bed is 80 H * 60 W * 55 D.
King size: King size upholstered beds are larger than the queen size upholstered bed with almost similar storage as queen size king size beds. These beds have takes more padding due to larger areas in total. Queen size beds are couple friendly while king size upholstered beds give extra width for an infant or a young kid. So if you have just got a baby member in your family king size upholstered bed could be a perfect choice for you. The standard dimension of king upholstered bed is 80 H * 75 W * 60 D.
 Now since you have known the different sizes of Upholstered beds you must be wondering what Upholstered bed is the most sold and highly rated so here are the top 10 Upholstered beds that you may want to grab before someone else does. We have listed the top 10 upholstered beds and ranked them based on customer reviews and ratings.
10 Best Upholstered Beds Review
1. ZINUS – Queen Size – Upholstered Bed
Zinuslottie Upholstered queen size bed is a stitched platform bed with a staggering rating of 4.7 stars. Buyers have liked the easiness to assemble this bed and gave a 4.8 star in easy to assemble category while the value for money and sturdiness has 4.8 stars respectively. Users seemed to be happy with the sturdiness and designing of the bed. With the price tag of $180, Zinus has produced an all-round hit.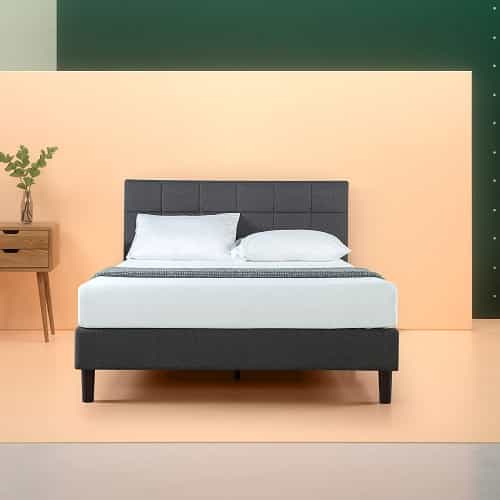 Pros
Bed has got good less complicate decor.
The headboard looks at the centre of attraction.
Cons
This bed has got four legs which are the only thing that makes me feel a bit outdated.
It also raises some questions like the strength of the legs, durability, etc.
There is no drawer or any storage space.
2. ZINUS – Full Size – Upholstered Bed
Zinus Shalini upholstered diamond stitched platform bed is another highly rated product from sinus. Customers have given it a 4.7 star overall. Easy to assemble gets 4.7, the sturdiness of the bed bags the same star while storage capacity got 4.2 stars. There is wooden slat beneath the mattress.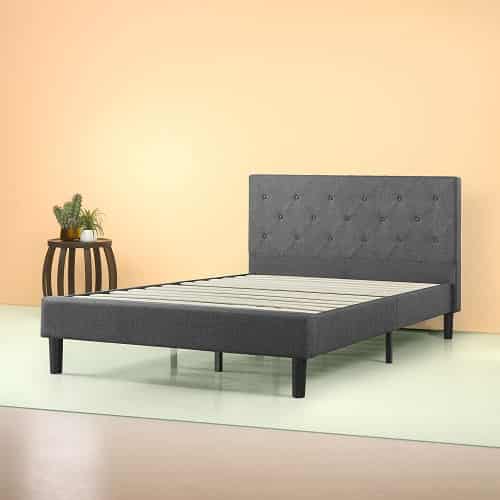 Pros
Cons
The wooden slats beneath the mattress make are a little comfortable.
3. HOMELIFE – Queen Size – Upholstered Bed
This queen-size Upholstered bed has got a classic look in a silver colour. The headboard attracts the eyes. Buyers have given it a 4.4 star overall. Stability got 4.9 stars, value for money got 4.5 and 4.4 stars for the sturdiness of the bed. Most of the buyers appreciated the stability of the bed. The price of this 4.4-star bed is $205 which makes it a hot product in the market.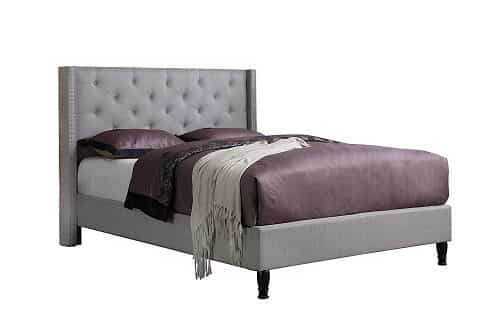 Pros
Good looking headboard with nice fabric coating.
Stability and sturdiness get flying colours.
Value for money.
Cons
2 legs in front kind of look outdated.
Length of the bed could have been longer for more comfort.
4. ZINUS – Queen Size – Upholstered Bed
Another Zinus product in the list with stitched platform bed. Another wooden slat bed by Zinus which has the overall customer rating of 4.7 stars. easy to assemble and sturdiness got 4.7 stars however storage capacity got a 4.2. The price of the bed is $179.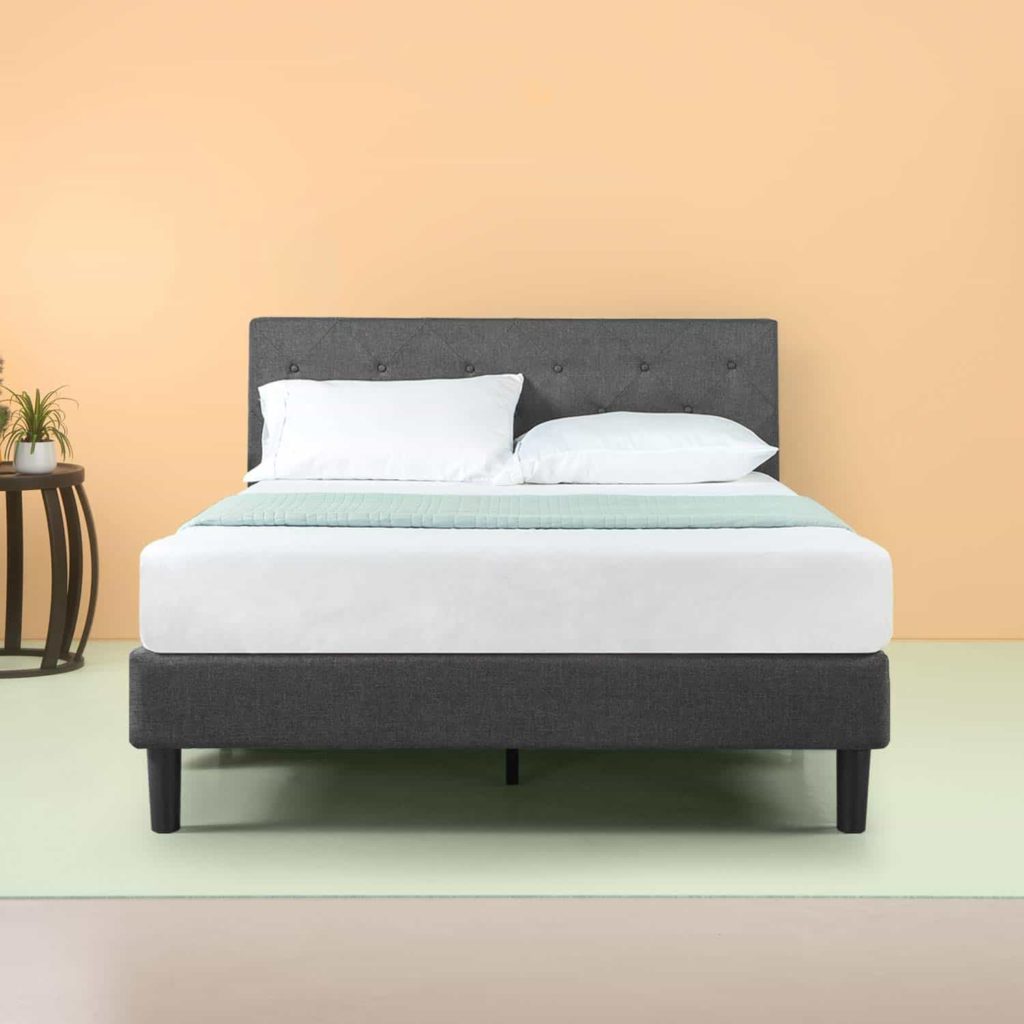 Pros
Wooden slat is stronger.
Value for money.
The sturdiness of the bed is the real punching line in the story.
Cons
No drawers in and around the bed and bed.
Stand almost at an awkward height seems to be an interior lapse.
5. NOVAGRATZ – Queen size
This Upholstered Bed has a luxurious look with great interior work with tufted wingback design and wooden legs. Buyers have given a 4.2 star to the product. Some customers seemed unhappy with the wooden slat and called this bed way too fragile at 290 bucks cost.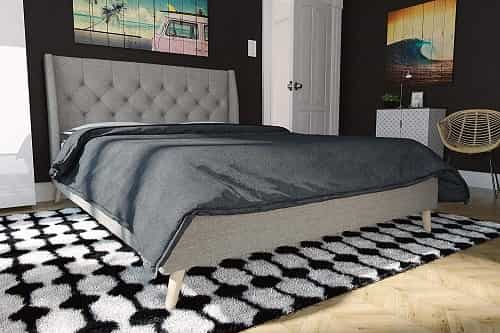 Pros
Designing and look attract the eyes right away.
The dimension of the bed is larger than the average queen size bed.
Cons
2 front legs awkwardly stand.
The fragile wooden slat is also an issue.
6. HOMELIFE – Queen Size – Upholstered Bed
This silver linen bed comes with tall headboard with a 5-year warranty. Buyers have given it 4.4 stars. stability of the bed got 4.9 stars which says home life has managed to put good pieces together. Value for money has 4.5 stars and sturdiness has 4.4 stars. I liked the interior by the looks of it.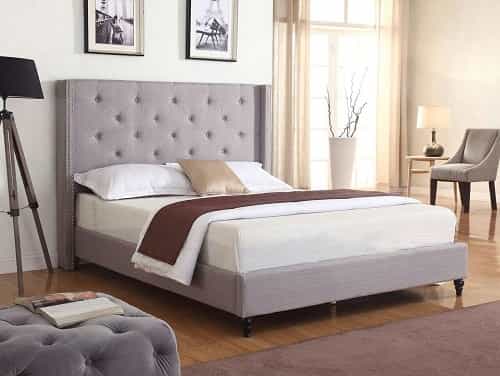 Pros
Well-designed product at a good price of $205.
The bed passes the Stability and sturdiness test with flying colours.
Cons
The sideways of the bed are quite narrow which cut a few marks in the decor department.
7. ARTUM HILL- Queen size
This Upholstered bed comes in the tufted, padded headboard. The cobalt velvet colour of the bed gives it a great look. The dimension of the bed is quite efficient while the legs are the best I have seen in this list so far. Customers have given a 4.2 star. 4.4 stars for Value for money 4.3 each for easy to assemble and sturdiness.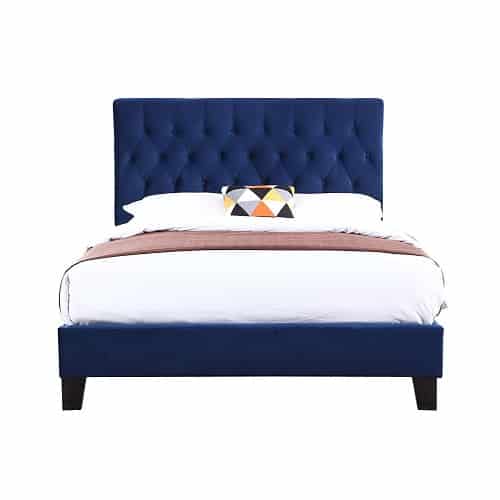 Pros
Legs of the bed are well placed with the lower height they are looking stable.
Colour of the bed is perhaps the most likeable feature in this product.
Cons
Some buyers seemed unhappy with the price value.
8. CLASSIC BRANDS- Queen size
This a platform bed with a wooden frame and wooden slat. The linen headboard looks good on it. Buyers have given the bed 4.2 stars for overall performance. Value for money, sturdiness and easy to assemble categories got 4.4 stars each.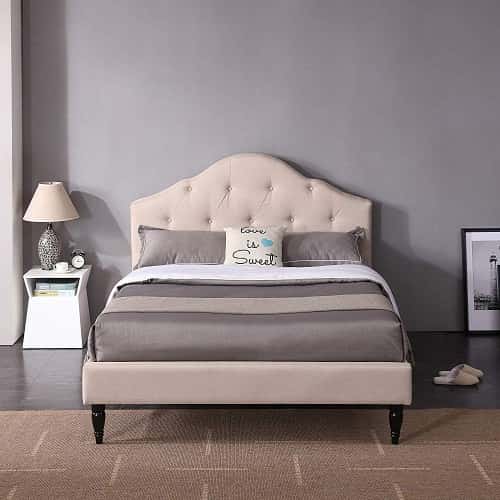 Pros
Good interior and decor especially the fabric work.
Cons
The width looks to be lesser than most of the queen size beds we saw in the list.
9. ZINUS- Kingsize – Upholstered Bed
This Zinus Dachelle Upholstered is a button tufted premium platform bed with wooden slat beneath the mattress in standard king size. The decor is classy, Dark grey colour is the feel-good factor for the customers. If we talk about rating buyer have been generous to give it a 4.7-star rating. Easy to assemble and sturdiness got 4.7 stars while storage capacity could only manage to get 3.9 stars from the users.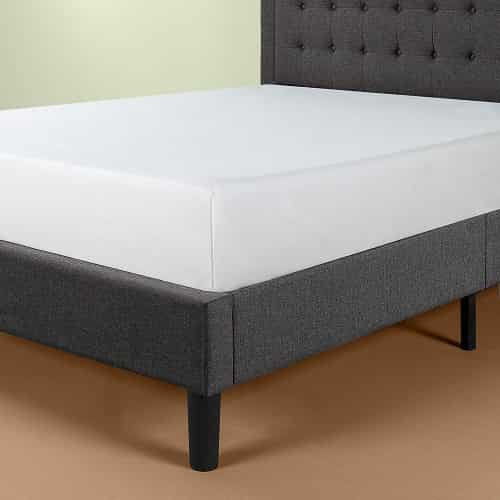 Pros
The stability of the bed has received appreciation from the buyers.
Interior part is overwhelmingly good, 6 legs is a good addition.
The price tag is $201.
Cons
Height of the bad is quite low.
10. CLASSIC BRANDS- Kingsize – Upholstered Bed
Coventry Upholstered platform bed from Classic Brands has made it last in the list. The bed has a metal frame with wooden slat support. The headboard looks good too. The price tag is on a higher side which can be seen as minus point. 4.5 stars for overall performance. 4.6 stars for easy to assemble and value for money categories, 4.4 stars for sturdiness. The bed will cost you $340.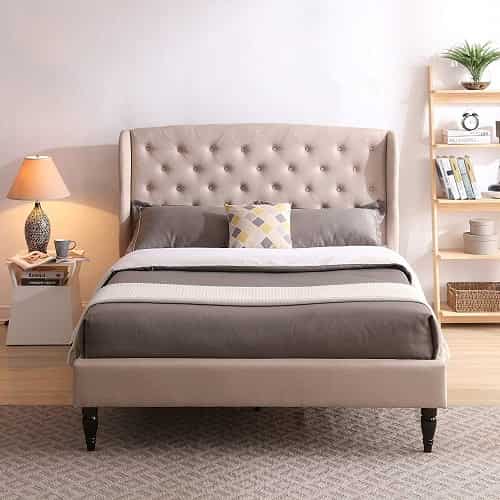 Pros
Designing of the bed looks great with a very classy coloured coating.
Cons
Wooden slat remained the concern.
FAQs
To help you get clear crystal idea about what type of Upholstered bed you should buy I have listed 3 most common FAQs related to Upholstered beds. Here they are :
Q How to choose the perfect size when going to buy an Upholstered bed?
You need to keep 2 factors in mind one how many individuals you are buying the bed for and secondly what style do you prefer? Full size, the king size is for 2 or more individuals while the queen is good for 2 not more than that. When it comes to types of style bed you should consider the background of the bedroom and choose according to a combination of room and bed.
Q How to care velvet headboards?
It is recommended to go for dry cleaning every time you want to give your velvet headboards and frame body a cleaning session. Velvet headboards demand regular care so you should give it a dry cleaning at least once a week for a long shining Upholstered bed.
Q What is the fabric care instruction?
It is important to ensure the positioning of the bed is good and there is no direct sunlight falling onto the fabric made bed as it can damage the health of the fabric body. Such beds should be maintained regularly for long durability. Dry cleaning should be the only option for all the cleansing work done on fabric coated headboards and frame body.
Conclusion
These were the top ten most selling Upholstered beds of all sizes. Upholstered beds are catching the market very fast these days and I see a lot more improvement work done in these products in the coming years. So if you are thinking of buying a bed for your bedroom then an Upholstered bed is the way to go.
These beds are mostly budget-friendly with less hustle of assembling work, they also look great with nonwooden headboards on top. Keep the points in mind while going to buy an Upholstered bed that I mentioned at the beginning of this article and go for your favourite Upholstered bed.