Bunk beds act as lifesavers for many families with multiple kids. Not only do these beds help in saving space, but it allows siblings to live in the same room without compromising their privacy. Most houses are not big enough so that every sibling can have a different place.
That is why bunk beds come in quite handy. If you are thinking about getting a bunk bed, then you must know that the ladder to climb a bunk bed is equally essential as the bed.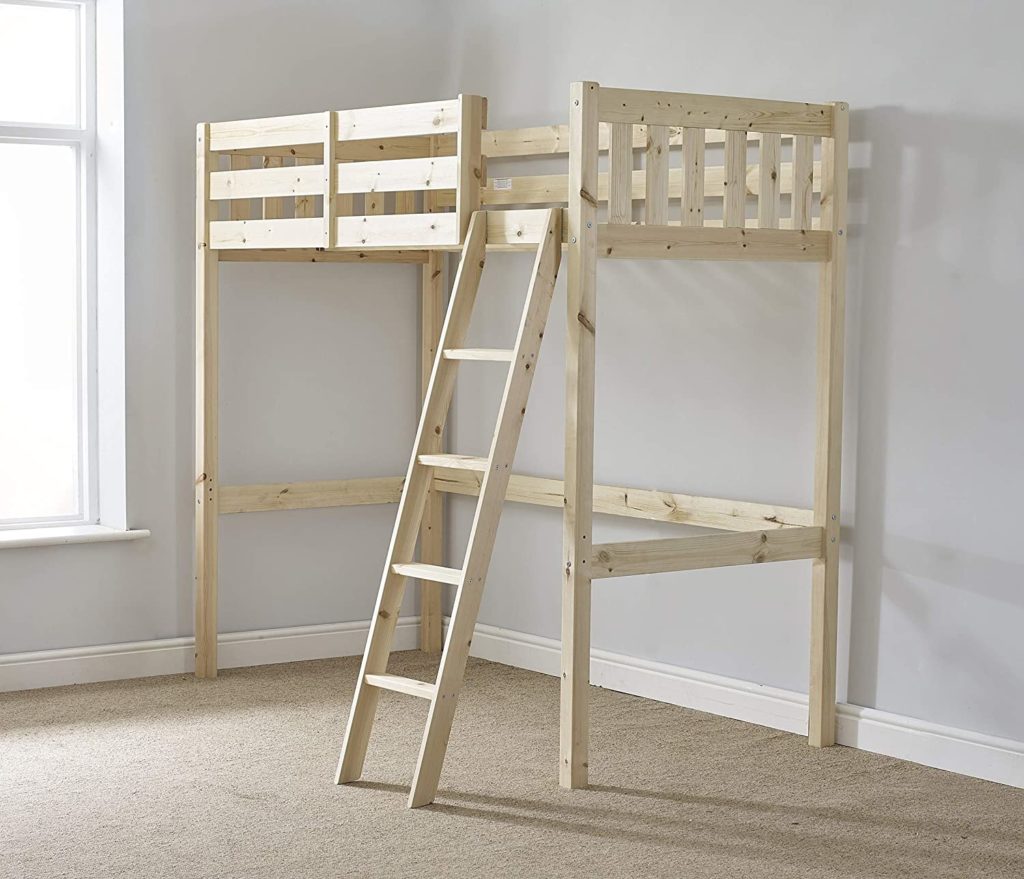 Even though you might find a ladder that will satisfy your needs quite quickly in the market, but building one yourself is way cheaper. If you are wondering about how to build a bunk bed ladder, then you are in the right place. Here, we will provide you step by step guide on how you can create the said ladder efficiently.
Step-By-Step Process to Build a Bunk Bed Ladder on Your Own
The following steps are quite crucial for you to know if you want to create a ladder for your kid's bunk bed. They are given in the next section of the blog.
Step 1
Before starting the process of cutting wood for your ladder, first, measure the length of the bunk bed from its top to the floor. Do not forget to measure the distance twice as the length will determine the sides of your ladder. You do not want to mess the measurement up.
Step 2
Get two eight-feet high-quality wooden pieces that have a dimension of 2×4. While choosing the right lumber for your job, remember to check if they are broken, cracked, or warped or not. If they are defective, you will not get to attain the required perfection. A simple tip to make sure if the woods are straight or not, you should stare at the pieces to measure the length.
Step 3
The previous woods are for the sides of your ladder, but to build the stairs of the ladder, you will need two to three pieces of lumber that are eight feet long. Their dimensions should be 1×3. Even though the aspect is subjective to you, but 1×3 is pretty good. In case you want broad stairs for your kids, you should get lumbers with dimensions 2×4. Always remember to get extra lumber pieces while constructing something.
Step 4
By using a circular saw, you will have to cut the said wooden longs into the stated dimensions. In case you do not know how circular saws accurately, check out some precautionary tutorial videos to use them correctly. You can also use a sharp blade if you do not have a saw. But remember, a hand blade might be dangerous if you do not have prior experience. You should always wear protective eyeglasses while sawing the lumbers. Also, do not forget to remove any piece of jewelry while doing the exercise. 
Step 5
To create a perfect staircase for your ladder, try to create a floor angle of 15-degree correctly. After getting the right point of the corner, mark the piece of wood with a 2×4 dimension. Then cut correctly by using your saw. In case you want a broader staircase for your ladder, make the angle 30 degrees. But remember, a wider perspective will take up more space in your kid's room.
Step 6
By using sandpaper, smooth out the cuts which are made by the saw. If you use sandpaper with 80 to 120 grit, you will be able to get a professional finish on the reductions of the lumbers. Moreover, by smoothing the cuts out, you will be able to ensure your safety. After using the sandpaper, remove the excess dust with a damped cloth.
Step 7
Cut the stairs according to your choice. If you have a bunk bed with a 56-inch height, then you will need seven stairs with 14 to 18 inches of width. Remember to consider the space between two stairs. Also, you can save money if you use fewer treads of stairs.
Step 8
Now to start attaching the side rails, you will need to drill holes into the tracks of the bunk bed. Try to make three drills so that you can cut the support post easily.
Step 9
Now start nailing the pieces of woods into the holes you made into the side rails of the bunk bed. But first, you should attach the base of the top board, and then you should start working on the stairs. You will be able to get more stability if you do the said thing first.
In Conclusion
Even though the steps mentioned in the blog can be quite convoluted, but if you genuinely want to know how to build a bunk bed ladder, then the said steps are essential. Always remember to sand your ladder properly for you and your kid's safety as the cuts can be dangerous. Moreover, if you are not comfortable with the entire process, first try to saw off other items. Or else, you will have a problem doing all the steps at once.
Related Links:
Best Twin Platform Bed With Storage Review
Best Upholstered Bed Review